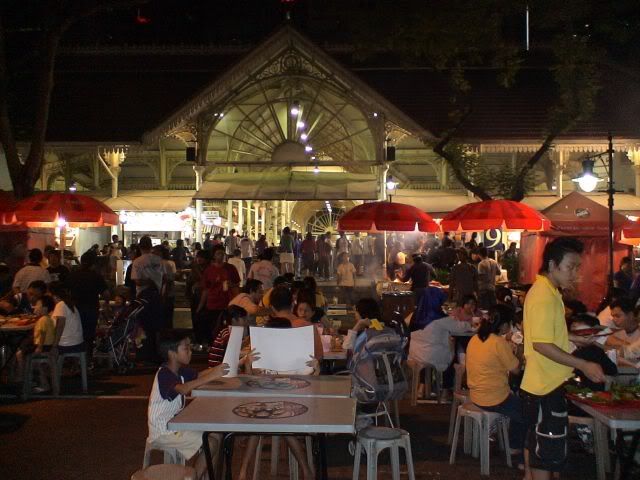 Last Saturday (20/5) night, I and my wife went to
Lau Pa Sat
, a big food court located right in the heart of Singapore's Central Business District, not far from the
Raffles Place
MRT station. This building actually holds quite a lot of historical value, it was a wet market before it was being renovated and now it's being restored as a favourit
makan
place among locals and tourists, serving Singapore local food.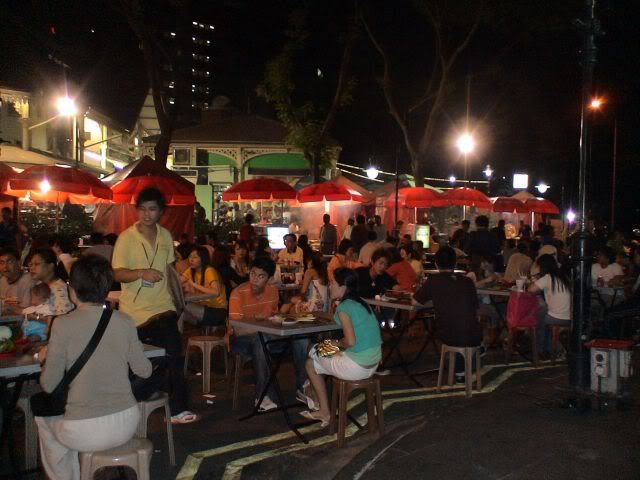 Actually, during the normal days, there's nothing special with this food court. All the food served there is similar to the one we can find on any other food courts around Singapore. However, one special thing about Lau Pa Sat is if we visit the place at night, especially Saturday night. Why? Because on Saturday night, the stretch of Boon Tat Street south of the food court is closed to traffic, and the road is filled with tables and chairs for all the visitors. It's such a great ambience under the stars (provided it's not raining) between all the office towers with the lights.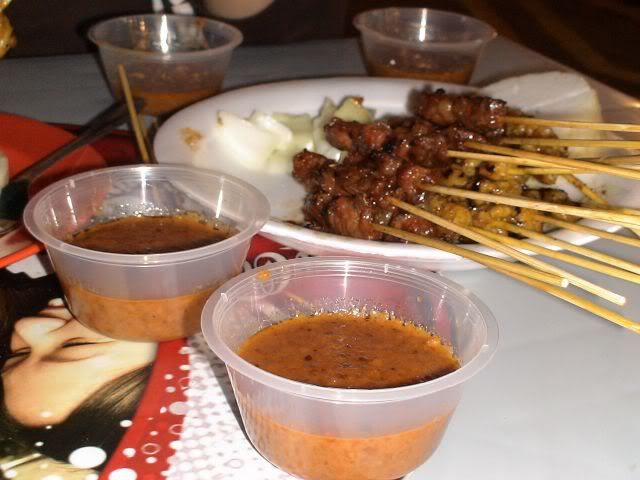 Satay is their anchor menu. You can have chicken satay, beef satay, mutton satay, and even duck satay, including the peanut souce, at 50 cents per stick. They also sell the
lontong
(rice cake) at $1 per portion. Other than that, you can also order BBQ prawn and chicken wing. We ordered 10 sticks of chicken satay and 10 sticks of mutton satay, including the rice cakes (see left picture).
On top of that, they also serve a variety of BBQ seafood, such as mussels, stingrays, etc. We ordered "mee goreng seafood" (see right picture) for $4, and it's indeed a good choice. The noodles are fried with quite a lot of seafood ingredients such as squid, baby octopus and crab sticks, very nice. :)
How about the drinks? Even though there are quite a lot of cold drink stalls available inside the food court, you shouldn't miss the
teh tarik
served by a makeshift stall near the corner of Boon Tat Street and Boon Tat Link (see left picture). They also provide ginger tea, cino tea, milo, and coconut ice. The
teh tarik
is really unique, and different from the other
teh tarik
we usually get from other food courts. The queue is quite long, expect to wait between 10-15 minutes to get your
teh tarik
here.
More pictures
can be found here
.
[
Indonesian version
]