At last, I finally saw the long awaited option on my
Blogger dashboard
for me to switch to the
new Blogger
, which is already
out of Beta
(see left picture). The option appears on top of my usual Blogger dashboard when I logged in to the dashboard today. This is a great surprise to me, since I have actually tried to switch just several days ago, and it was not successful. I believe this was because my Blogger account is also a contributor of the
Bemo Live
and
Suka Suka Gue
blogs, preventing me from switching to the new Blogger account. It seems that now, Blogger has managed to give me the option to upgrade all my blogs separately from the two blogs which are still on the old version of Blogger.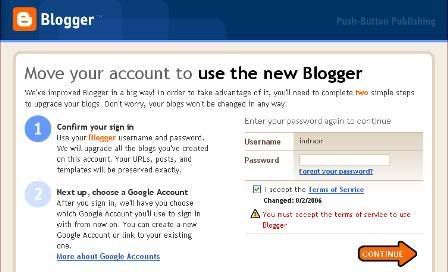 Having said that, I immediately chose to switch to the new Blogger. First, I needed to confirm my sign-in by signing in using my old Blogger account (see right picture). After signing in, I am given the list of all my blogs, which are going to be upgraded (see below picture). It was mentioned that the two blogs I have mentioned above are owned by someone else, and although I will still be able to post to those blogs after upgrade, but the blogs won't have the new feature until the owners upgrade them.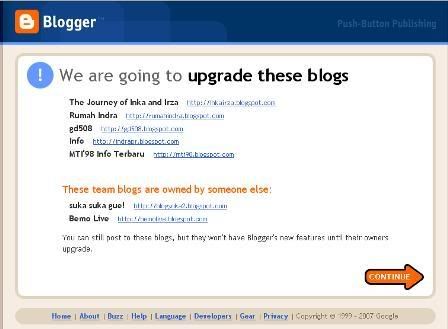 After pressing "Continue", the screen would prompt me to choose a Google account (see right picture). I could either use my own Google account if I have one, or create a new one. Since I already had a Google account, I just needed to key in my Google account and password. After signing in, the upgrade process will start, and depends on the number of blogs and how big they are, it may take several minutes. Once done, an email will be sent to our Gmail e-mail account.

So, here this is, my first post on the new Blogger version. Haven't really explore the new features yet, though. One of the obvious features I can see, which I think would be very useful, is the labels tagging, which can be used for me to categorise all my next articles. Well, let's see how it goes after I post this article. :)