ZingDo restaurant
is one of only a few halal Korean restaurants in Singapore. This chain of restaurants is managed by
Zingrill
, together with
Seoul Garden
and
Breeks Cafe
. Usually the ZingDo restaurant we visit regularly is the one at
Ngee Ann City
, which is on the same roof as the Breeks Cafe there, which is on the 5th floor, just opposite Seoul Garden. Now, ZingDo has opened a new outlet at
Jurong Entertainment Centre
, just opposite Jurong East MRT station, and it's not quite far from where we live here in Singapore. So, last week, 11th of July 2006, exactly, I and my wife went there for lunch.
The restaurant is located on the first floor of the building, which also houses the Jurong Cineplex. The outlet here adopts the fast food style of food ordering, so we need to order the food at the counter and make the payment first. Then, we look for an empty table and wait for the food to be served there.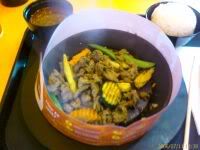 I ordered the beef bulgogi set (left picture), the Korean-style minced beef steak, which is my favourite. My wife ordered the chicken bulgogi set (right below picture), similar steak but made of minced chicken. Both foods are served on hot plates, and when the food came, the meat was served raw. So we need to cook the meat, as well as the vegetables, on the hot plate, mix them with the sauce paste provided on the table, before we eat them.
How's the taste? Amazing! Very delicious. The meat absorbs the sauce quite well, and it's delicious up until the last bite. I also tried my wife's chicken bulgogi and it's just as nice! The bulgogi set is served with a bowl of rice, and a bowl of
kimchi
soup, which is also delicious. Just be careful, the soup is full of chilli seeds, so it's a bit hot.
The price is also reasonable for Singapore standard. The chicken bulgogi set will cost you about $7.90, while the beef bulgogi set is only $1 more expensive. Other than that, they also serve Korean Rib-Eye Steak at $15.90 per set meal. You can browse through the menu and the price
here
.
[
Indonesian version
]